We are more than thrilled to announce that Dapp.com has officially added Binance Smart Chain to our platform as the 22nd blockchain we support. Leading dapps on BSC could be discovered in the Binance Dapp Ranking, with our New Analytics Dashboard.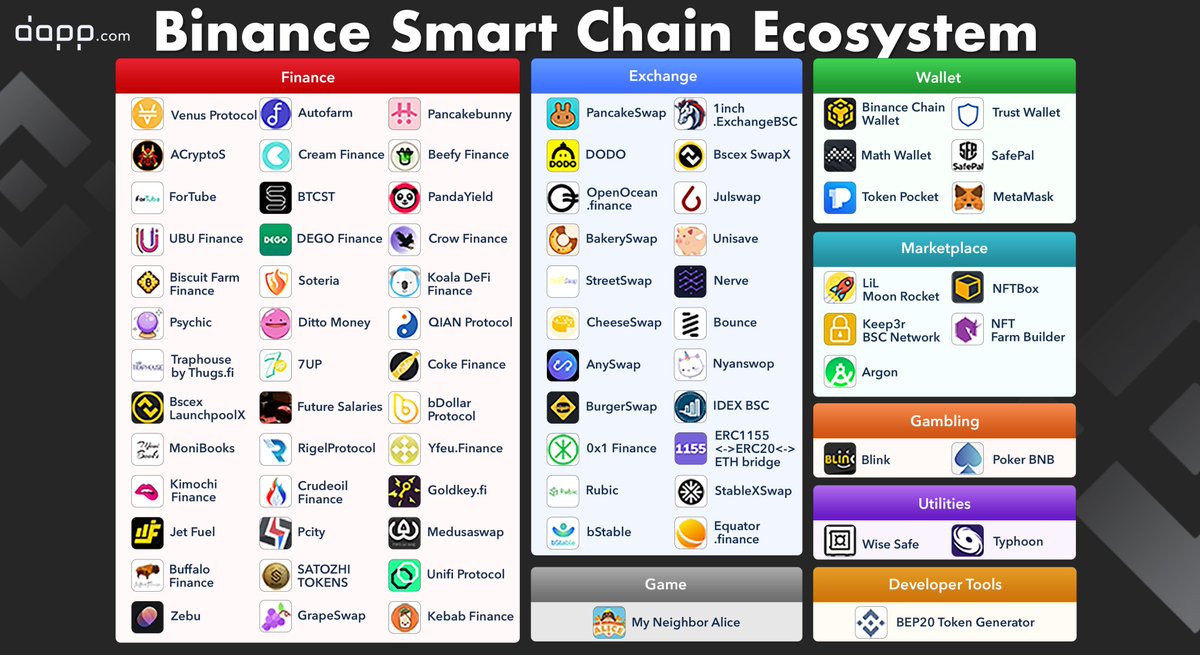 The New Dapp.com Analytics Dashboard allows everyone to monitor up to 40 key on-chain metrics for each dapp, including Total Value Lock (TVL) for DeFi, Trading Fees Earned for Dex Protocol, Borrow and Liquidation on Lending Protocols and special events like Flashloan activities on AAVE, etc.
Further collaboration between Dapp.com and Binance will focus on discovering more valuable assets through Dapp.com's analytics, as well as boosting the ecosystem of BSC.
We are super excited to be part of the crazy growth of Binance Smart Chain in the last few months and the huge impact it is bringing to the blockchain space - Bring DeFi to the mass.
Ethereum's Biggest Rival, Finally
6 months after its mainnet went live, Binance Smart Chain has nearly 58,000,000 unique wallets created by March 14th with the highest increase of 6,574,010 new addresses on March 2nd, according to BSCscan. The BSC network handles averaging 2M transactions per day since February, beating Ethereum's 1.2M daily. Over $4.5 Billion worth of assets (TVL) have onboarded to BSC and BC network via the Binance Bridge from Bitcoin, Polkadot, Cardano and Ethereum, etc. including $1.5 Billion worth of ERC-20 tokens.
(BSC VS ETH TX, from BSCscan and Etherscan)
This is a significant achievement for a new mainnet, and it is all due to Binance's super infrastructure. Which includes:
Ethereum compatible. Almost every Ethereum wallet could easily add a BSC network within seconds.

Close-to-Zero Gas fee and high-speed. A swap trade on Uniswap on Ethereum costs at least $40 and takes up to a few hours. But it takes about 3 seconds and costs 0.0004 BNB ($0.01) to do the same on Pancakeswap on Binance SC.

Onboard Almost Every Asset Cross Chain Seamlessly with Binance Bridge. Only ETH and ERC-20 assets to BSC? Way more - there are BTC, Polkadot (DOT), Cardano (ADA), Filecoin (FIL) and more!

It's Binance!
Reveal the True State of BSC DeFi Ecosystem via Dapp.com's New Analytics Dashboard
With Dapp.com's new analytics dashboard, we are able to get a full picture of how Binance Smart Chain has achieved as a 6-month old Layer 1 ecosystem.
Being the largest AMM DEX on BSC, Pancakeswap has captured great value of the system and it is the best DeFi dapp to represent BSC's growth - traded almost $30 Billion worth of crypto assets for over 423,000 traders in over 22,000,000 trades in the last 90 days. Over 3,000% growth in 90 days.
(Pancakeswap 90 days growth, Dapp.com)
Are you yield farming on Pancake? You could have an idea about how your capital will be growing by checking the following 3 data - Trading Volume, Number of Liquidity Provider and Fee earned by LP on Pancakeswap. As a long term investor, knowing that the Pancakeswap has earned over $8.8M treasury fund from fees should convince you to HODL.
(By Dapp.com - Pancakeswap Performance & Cake Price Analytics. The black line is the $CAKE price.)
PancakeSwap trading volume increased over 300% in the past 90d. Its daily trading volume surged to ATH at $1.76 billion on 20th Feb 2021, followed by a drop to less than $1 billion/per day in March.

Trading volume highly affects the fees earned by both liquidity providers and Pancake, so you can see these 3 data sharing the same trend.
How about its governance token $CAKE? It achieved a 25x growth (ATH 48x) in the last 3 month, while the protocol is growing aggressively with BSC.
What data should you look at for your fundamental analysis? Let's look at the facts in the above chart. $CAKE's price also showed a strong correlation with its trading volume, liquidity provider amount and fees earned. The dark color line represents the $CAKE token price.
See full comparison report for Pancakeswap, Uniswap and Sushi? Stay tuned for an update.
The great success of native dapps on BSC has also attracted leading players from the Ethereum ecosystem, such as 1inch Exchange, Cream Finance, DoDo Dex. Sushiswap also announced the deployment of the BSC version on March 4th. How are their performances so far?
1inch was one of the first few important players in the Ethereum DeFi ecosystem to announce an expansion to Binance Smart Chain - Bringing CHI Token, 1Inch DEX Aggregator, and its 1Inch Liquidity Protocol. With less than a month, 1inch handled a total of almost 200,000 transactions, and a total of $600M volume for 50K users from the BSC ecosystem. 25K users has provided a total amount of $18M crypto assets for its liquidity pool (TVL).
(Onchain Performance of 1inch Exchange's BSC version, Dapp.com)
1inch exchange BSC daily onchain performance has exceeded its Ethereum version in terms of daily trades and daily trader, with only less then 1 month after launch. 1inch BSC currently executes 8.5K trades daily (vs 4k on Ethereum) for 3.5K traders (vs 3K on Ethereum). With its daily trading volume picking up on BSC, 1inch BSC is looking to surpass 1inch ETH in more aspects.
How about other dapps that have expanded to BSC like Cream Finance, IDEX and the others? Discover more exciting dapps in the BSC dapps ranking.
Upcoming Campaign with BSC
Want to discover the hidden gem in the BSC ecosystem? Our upcoming campaign will help you become a better investor with Dapp.com's new dashboard and WIN prizes for the next 3 weeks!
Stay tuned for updates!
You may also like:
Make sure you bookmark dapp.com and subscribe to our newsletter below to get updates direct to your inbox.